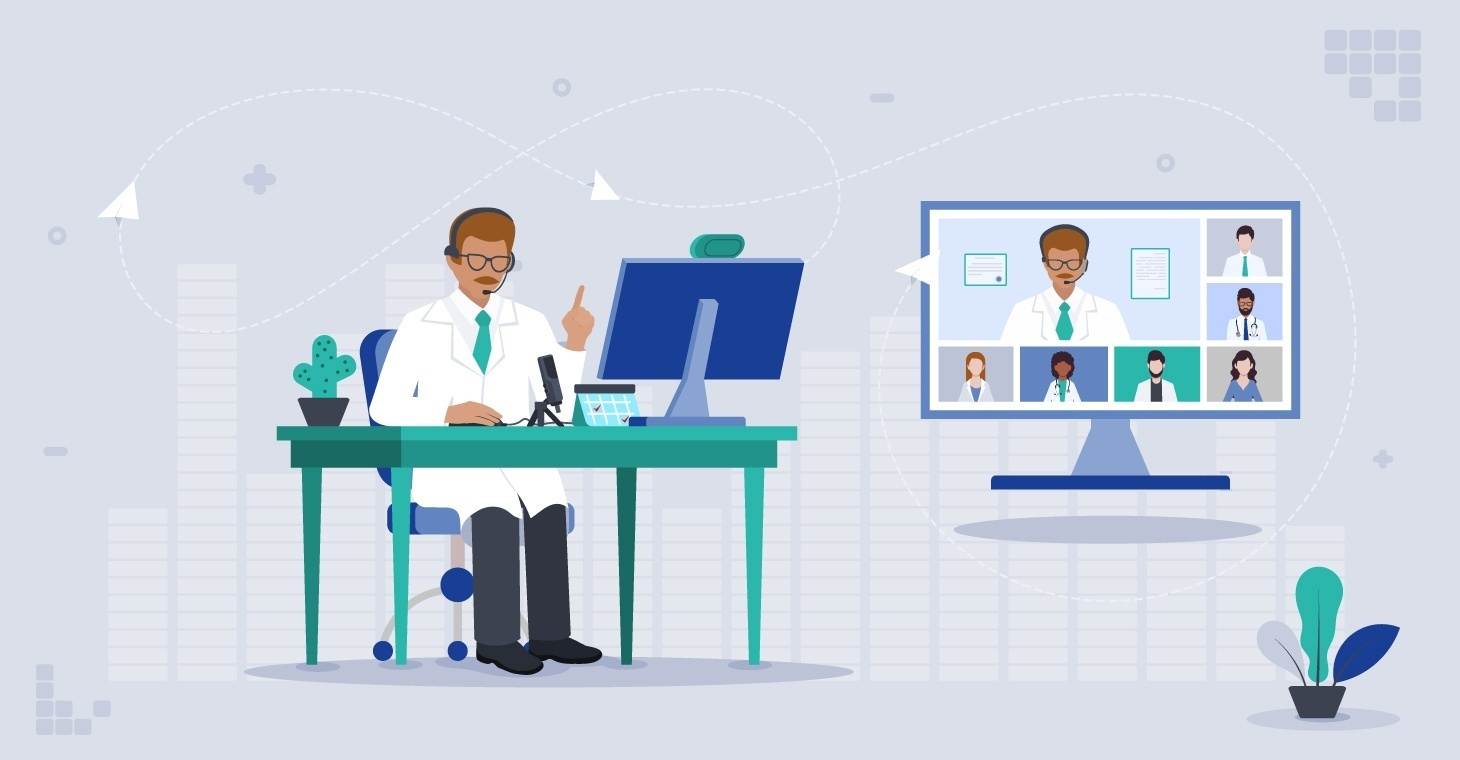 3-Step Practical Guide to Virtualizing a Medical Conference
How do you virtualize a medical conference now that the physical conference is cancelled?
That's a question we've been hearing over the past two months from nearly every medical society we work with.
And rather than getting overly abstract or complicated, we decided to get straight to the point and share with you a 3-step guide on how to do this.
In order to run a full virtual conference you'll need three main components: content, platform and user experience.
#1 Content
Content usually comes in the form of videos and readables (abstracts, slides, scientific posters).
Readables are the same in the case of a physical or fully virtual conference (usually PDF or PPTX file formats), so nothing different here.
As for the videos, instead of recording faculty lectures at a physical conference, here you would need to request that the faculty record those same lectures from their homes or offices (or studios in their hospitals, if available).
We've created a detailed, downloadable step-by-step guide that you can use to orchestrate this, simply by sending this guide to the faculty. In this guide, we cover everything: the light, audio, visuals, technical equipment options, and software. Easy to use and easy to read. Here are some high level tips:
Use a "hybrid," recorded/live approach in order to reduce the streaming risk and yet give a live, exciting feel to the lectures. The way this is done is by having:

All the lectures pre-recorded (so you don't run any risk with multiple live lectures, depending on everyone's internet speed)
A lecturer available live for Q&A (this will give the lecture a vibrant live feel)

Announce to lecturers the key dates (when recordings should be available and how to record and store them)
Lecturers should record both themselves (their face) as well as their screen with slides. Having a face on the screen next to the slides makes the viewing experience much more appealing. We are human beings and like to connect with others while absorbing the content.
Technical equipment-wise, all that is needed is a laptop, webcam, well-lit room and headphones (laptop audio is usually of low quality and can ruin the whole experience).
You need one or two staff members to coordinate all the recordings, check for quality and add beautiful thumbnails to each recording with the help of one part-time designer
As for the software, we recommend using UseLoom. It's free and there is also a $4-per-month option.
Here are some of the common questions we receive about the content:
Can at-home recorded content be as appealing as the content recorded at a live, physical conference?
Definitely, especially if a lecturer records both their face and the slides, and you add a live Q&A feature that will let HCPs from all around the world ask questions.
Should some of the session types be run live (not pre-recorded), like panel discussions?
Great question. Running panel discussions live can be an added value, and the risk is limited only by the internet connection of the panel members. If you have a tech team to handle this, and you limit it to 5-10 live sessions per day of the conference, it can be done with little or no risk.
How much time would HCPs spend per day watching the conference?
Excellent question and this is where we see the biggest misconception in the industry, expecting the same amount of attention is given by HCPs at a virtual conference as is at the physical one. We will cover this later on, in part 3, when we talk about the user experience. But, in a nutshell, what is really different between the physical and the virtual conferences is the context!
At a physical conference, HCPs are there all day, with time carved out for the conference itself, away from their patients and families. When it comes to virtual conferences, HCPs usually have 15, 20 or 60 minutes here and there to watch specific lectures that matter the most to them.
However, if done well, unlike the physical conferences where you have only 3-4 days to engage HCPs, virtual conferences can engage physicians 365 days per year.
#2 Platform
Now that we've got the content covered, let's talk about the platform. What platform should you use? What features should it have? What options are available?
These are all great questions, so let's simply list the criteria of a great platform. A great platform should be able to:
Support all content types (video, readables such as PDF and PPTX, audio if needed).
Reliable. It has to work flawlessly. You don't want an HCP to click the Play button and get frustrated waiting for buffer.
Scalable. The platform should work in the exact same way whether it has five or five million HCPs logged on. Very few platforms are designed to do this.
Easy to use on all three devices (laptops, tablets, mobile phones). In other words, mobile responsive, with an intuitive interface.
Robust search feature. Ideally fast and with advanced filters, making it easy for HCPs to find the content they want to see.
Interactive learning capabilities. Live Q&A, polls and surveys.
Personalized. We live in the 2020s and we are used to watching Netflix and having complex algorithms adjust the content to our needs and help us discover the right content just for us.
Analytics and Insights. You want and need to be able to glean key engagement statistics: How many HCPs accessed the content? From how many countries? What were the most viewed lectures? How much time did HCPs spend consuming the content? Daily? Weekly? How did engagement break down by country, conference track and specialty?
Modern and Beautiful. HCPs are not used to beautiful user experiences but rather to cluttered interfaces, with difficulties finding the right content. We believe that design matters and that's why we designed our platform to be beautiful, clean, modern and a joy to use. We recommend staying away from platforms that try to mimic the physical experience, have 3D images of the conference hall...those designs are from the early 2000s and they neglect the context we mentioned in the previous chapter.
Browser-based solution. No plugins. No apps. No downloads. No hassles.
On top of all these features, you want a platform that can attract pharma or medical device sponsorship:
Virtual Industry Booth. Modern virtual booths can be used by medical affairs teams to engage HCPs with appealing content.
Virtual Satellite/Industry Symposiums. Enable industry to drive engagement and measure impact.
Evermed is designed from the ground up to support all these features and that is why we usually say that Evermed is the only built-for-purpose, virtual medical conference platform.
#3 User Experience
As mentioned previously, this is where we see the biggest misconception in the industry: expecting the same amount of attention from HCPs at a virtual conference as at the physical one. Again, what really differs between a physical and a virtual conference is the context!
At a physical conference, HCPs are there all day, with time carved out for the conference itself, away from their patients and families. When it comes to virtual conferences, HCPs usually have very limited time between patient visits or after work to watch specific lectures that are most relevant to them.
That is why the user interface should NOT mimic the classical, linear setup (Hall A, 9am, lecture name), but rather have a more fluid user interface that can surface the right content at the right time, based on user needs, and personalize it fully.
Think Netflix but for medical conferences... that is EvermedTV!
EvermedTV accomplishes this through various means:
Shows HCPs a list of lectures so they can bookmark the ones they want to watch
Surface the content based on the personal needs of each HCP
Clearly mark the live/hybrid lectures so that HCPs can easily join them and watch in real time
Use daily email campaigns to announce top new lectures for the next day, and let HCPs bookmark them so they can watch them live or when they have time
A robust search field that lets HCPs quickly find the lecture they need
By adjusting the user experience to this specific context of watching the content remotely, we exponentially increase the time each HCP spends on the platform viewing the content. And on top of this, we maintain excitement about the conference content for full 365 days, not limiting it to just 4 days in a year.
Below is a screenshot of the beautiful, Netflix- or TED-like user experience on EvermedTV.
Creating a superb, virtual conference that serves both your physician members and exhibitors comes down to content, platform and user experience, and of course, deep thoughtfulness on how to deliver great content in a completely new context.
We often say that Charles Darwin was right when he said that "it is not the strongest or the most intelligent species that survive, but the ones that are most adaptable to change." In the case of virtual conferences, we anticipate that some conferences will struggle to adjust, while others will emerge stronger than ever, fully ready for digital consumption of content that will exponentially increase after 2020.
If you want to connect and discuss how EvermedTV can become your partner in delivering an exceptional virtual conference, please click here.
How to Record an Engaging Virtual Conference Presentation