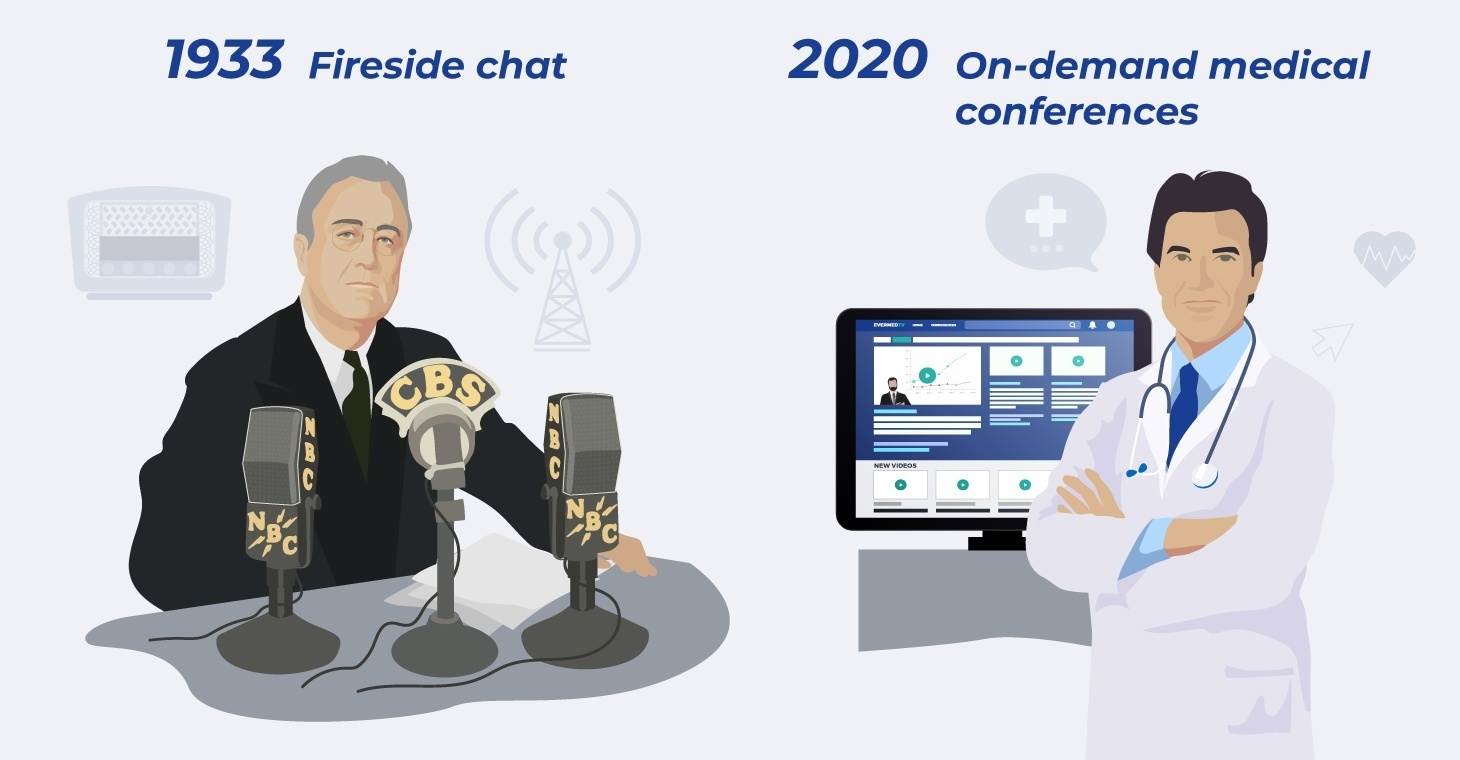 On-Demand Medical Conferences: A Lesson from Franklin D. Roosevelt on How to Master the New Communication Channels
Sometimes the best lessons in digital marketing are found by looking back in history.
One of those lessons comes from Franklin D. Roosevelt, who back in 1933 coined the popular term 'fireside chat'. The fascinating story behind this now-common phrase may inspire your approach to using new channels to reach and engage HCPs…
Upon his 1933 inauguration, Roosevelt wasn't just facing The Great Depression—but the challenge of his opposition controlling the newspapers and influencing public perception. He sought to unite the nation, provide self-assurance and leapfrog his opposers despite their hold on mainstream media.
His plan? Leverage a new communication channel to reach millions of Americans: radio broadcasting.
A Revolutionary Experiment
Roosevelt's unprecedented radio broadcast, Fireside Chats, was created to directly share and discuss his political views and plans with the American people—building trust through a new communication method
By 1941, 60 + million Americans would regularly tune into these periodic addresses


Roosevelt successfully leveraged a new communication channel, and Fireside Chats enabled him to renew national spirit and cement his legacy as one of history's most prominent American presidents—popularizing a new method of direct communication through modern mediums that virtually every president has since continued
Besides a history lesson—what does this mean for us?
For a moment, think about communication from Roosevelt's perspective—if you want to leapfrog your competition, utilizing the same tired channels simply won't work.
Webinars and emails are now "the newspapers of our industry"—it's time to innovate.
Leveraging on-demand medical conferences as a new communication channel can provide you a massive competitive advantage.
This chart is the reason why:
If you look at the chart more closely, you will notice a couple of things:
First, digital conferences have already surpassed in-person conferences before COVID 19 happened to the world!


Second, most research shows that in-conference attendance will be cut in half after COVID-19 pandemic is over, while digital conferences are expected to exponentially grow in attendance. In other words, this channel is about to explode in usage.

You can dominate this new channel by allowing EvermedTV to support you with that. EvermedTV is the new gold standard for Live and On-Demand medical conferences and as of today, we have 22 world-class conferences on our platform.
This channel delivers content that is trusted, up-to-date and world-class. It also provides opportunity to disseminate clinical data and new results at the push of a button.